"SCENAR is the most successful technology for the reduction of pain that I have used in 35 years in pain management" – Dr Mike Shapow, PhD
We have been treating acute and chronic pain with great success using SCENAR therapy. Our treatments are safe, natural, and highly effective.
We all deal with pain from time to time, be it chronic or acute. When we do, it's hard to know where to turn for treatment. Now there is a method that actually goes to the root cause of the pain – treatment with technology that stimulates the nervous system, restarting the body's natural healing responses.
Space-Age Technology

Russian cosmonauts developed a system known as SCENAR (Self-Controlled Energo Neuro Adaptive Regulation) in response to the need for effective, fast, and flexible pain treatment for use on space missions.
SCENAR is now used routinely in hospitals, by medical professionals and top athletes. It has been proven over the past 30 years, and is highly effective for relief of any pain.
How Does It Work?
SCENAR therapy directly stimulates the natural adaptive processes of the body and nervous system, so that the body can heal itself. The software algorithms used in the SCENAR mimic the nervous system's own impulses and alter the signal output every few milliseconds in response to your body's reaction. In addition, the high amplitude SCENAR impulses stimulate the body's "C-fibres", which are the main ingredient – about 85% – of nerves.
The stimulation the SCENAR provides your nervous system causes the brain to release the body's own internal pharmacy of bio-active compounds to the site of pain. Included in this is a measured dose of neuropeptides, some of the most powerful pain relief agents the body produces, and widely regarded as one of the most powerful healing compounds. Within minutes the body has delivered sufficient natural chemicals to give powerful pain relief and to speed up the healing process. Real results… and fast.
And The Results?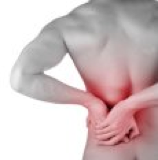 "I have suffered from aches and twinges at the base of my spine since a skiing accident in 1991, and had difficulty sleeping through most nights. I have had a course of three treatments with the SCENAR and the problem not only disappeared, it has not returned! I am sleeping so much better too. I am so pleased."
– Derek, 29
"One moment I was in absolute agony, having injured the base of my back – I thought: "I'm not playing tennis again." I could hardly get in or out of the car, and it was really painful. But with SCENAR treatment, I was back on court playing again, much to the amazement of everyone around me. I just could not believe it – 5 minutes before I could not stand up, and now I'm back in the game. Absolutely extraordinary."
– Mike Reid (DJ, TV presenter)
"Both in acute medicine and in chronic problems previously unresponsive to treatment, it is possible to achieve therapeutic results that I could only have dreamed of previously. For me, SCENAR treatment is the discovery of recent years. It is the most valuable and effective new form of therapy that I have learned about during my professional development over 25 years or more."
– Dr Hans Bründler, MD
Treatment Costs –
Acute injuries and pain :-
6 treatments over 2 weeks £150.00
Chronic pain :-
Adult initial consultation 1 hour £50
Follow-up consultations ½ hour £30
(What to wear : Please wear comfortable loose clothing – we need access to your back, shoulders and abdomen, and if you have a point of pain we may need to apply the device directly to the skin there)
Biographical Info
In 1987 I helped set up the Marlow Homeopathic Clinic which has grown and is now Marlow Homeopathy. During my thirty plus years of experience as a practising homeopath I have run two busy practices, one here at Marlow and the other at the Natural Therapy Clinic in Abingdon, Oxfordshire.
I have written and presented many courses including a homeopathic first aid course, an assertiveness course, and most recently a relationships course in collaboration with Kay Willis. I have lectured at several homeopathic colleges and run workshops and tutorials for student homeopaths. Currently, as well as seeing patients, I supervise and work with homeopathy students.
Recently I attended two philosophical counselling courses, gaining a recognition in this field. I intend to continue these studies as they usefully augment my homeopathic work.
Before studying as a homeopath I worked as a librarian, running several professional libraries as well as a large medical library at Greenwich District Hospital in London.
I am married with three grown up children.